Please join me in congratulating Dr. Robbins on his two decades of being in practice as a chiropractor. He is passionate about helping patients experience optimal health and wellness!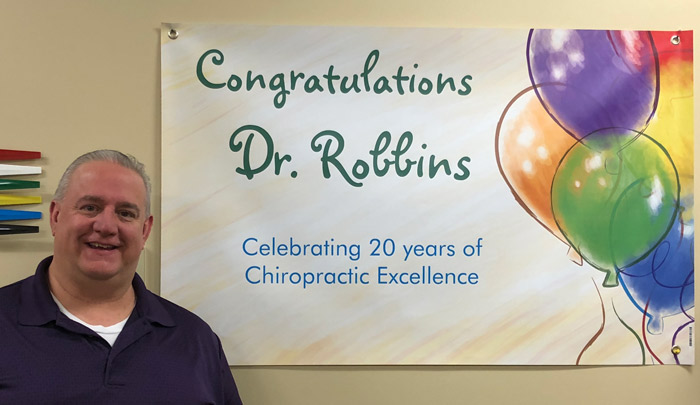 Having a Desire to Help Others
By the time he entered high school, Dr. Robbins knew he wanted to work in the medical field in some capacity. He always wanted to be able to help others but wasn't sure exactly how. After graduating from high school, he worked as an X-ray technician and then a radiation therapist. Dr. Robbins went on to earn a bachelor's degree and considered a career in hospital administration.
Discovering the Healing Effects of Chiropractic
After dealing with low back pain that wouldn't go away despite taking medication, Dr. Robbins tried chiropractic. It worked, and he knew then that a career as a chiropractor was what he was looking for. Dr. Robbins completed the pre-medical program at Carlow University and then pursued his chiropractic education at Palmer College of Chiropractic in Davenport, Iowa.
Enjoying an Active Life in the 'Burgh
As Pittsburgh has been named one of the best places to live in the United States, Dr. Robbins is happy to have roots in our great town. He and his family enjoy all that life in the 'Burgh has to offer.
Married with three children, Dr. Robbins enjoys watching their sporting activities. His two grown sons are very into hockey. His older son volunteers every Saturday with the Kids of Pittsburgh Ice, while the younger of the two attends SRU and plays for the ice hockey team there. Dr. Robbins' daughter is in competitive dance. With the limited down-time the family has, they know that spending time with friends and family is essential.
If you'd like to experience the benefits of chiropractic care, we invite you to schedule an appointment today with Dr. Robbins!