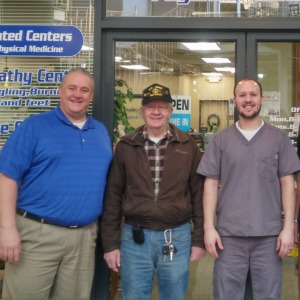 Bob is a patient of South Hills Physical Medicine and Chiropractic , he recently celebrated his 90th birthday. Here's his story!
Did you know that in 1926 the forty hour work week was introduced by Henry Ford, the first SAT college admissions test was given to high school students, and the first liquid rocket fuel was created? America also lost silent film star Rudolph Valentino and famed magician, Harry Houdini. Chicago streets ran red, as infamous gangster Al Capone was involved in a full-fledged turf war.
In June of that year, a baby named Robert was born in Pittsburgh. He grew up on a dairy farm in Mt. Oliver just a few blocks from Arlington Avenue. His treasured memories growing up included frequent long walks to the Carnegie Library in Oakland, for these walks he would have a nickel in his pocket, and choose between a hot dog or a root beer to fuel him for the long haul.
He also enjoyed visits to the Pittsburgh Zoo, and going to baseball games at Forbes Field with the help of his Grandpa Joe who was an Oakland Police Officer. "He would get us in to the games for free after the inning started," Bob recalls with a smile on his face.
As Bob grew older he started working construction, and had helped build Londonbury homes, a community in Carnegie, Pennsylvania.
In 1939 World War II started, Bob was 13 years old. In 1944, at 18 years old, he joined the Navy to help fight for his country. During his service, Bob had received 5 stars for Iwo Jima and Okinawa, and 2 stars for a battle in the Philippines'.
When asked his favorite moment in history or in Pittsburgh, Bob replied "When I got discharged in 1946, and I got to Pittsburgh, I looked up and saw the light on the top of the Gulf building. I was so happy, I knew I was home."