Welcome to South Hills Physical Medicine and Chiropractic
Our Chiropractors in Pittsburgh Welcome You!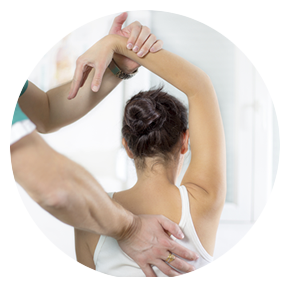 At South Hills Physical Medicine and Chiropractic , we offer the natural, safe healing of chiropractic care. Many patients come to our office after experiencing an injury that has caused lasting pain. Our experienced chiropractors will establish a customized treatment plan to first get you the pain relief you need and a long term plan to heal the underlying cause of your pain.
Accessible, Affordable Chiropractic Care
Our unique approach to care combines the talents of a Pittsburgh chiropractor, doctor, highly trained nurse practitioner and rehabilitation specialist. We are in-network with every major insurance carrier, and are preferred providers for Medicare and Medicaid. We're conveniently located in The Shoppes at Caste Village in Whitehall Borough.
Call us at (412) 885-3533 to schedule your free, no-obligation consultation today!

Chiropractic Care Treats Many Common Conditions
Back Pain
Hip Pain
Neck Pain
Shoulder Pain
Headaches & Migraines
Plantar Fasciitis
Piriformis Syndrome
Disc Problems
Degenerative Joint Issues
Arthritis
Avoiding Back Or Neck Surgery
Always Free Consultations – Call (412) 885-3533 or

book an appointment online

now!


TESTIMONIALS
See what patients have to say
Thanks for fitting me in to your schedule on short notice. I'm confident that you will solve my issue.

The level of pain in my neck and back has decreased remarkably since receiving adjustments and injections. Thank you Dr. Robbins.

Always willing to answer questions and thoroughly explain treatments.

Excellent care that relieved my back and neck pain and improve my flexibility.

Sharp group right down the line!

I felt better after coming to you than anything else I've tried so far. Looking forward to my next appointment.

The staff and doctors are AMAZING! I love how they actually listen to my problems and they are very helpful! So glad I found them!

Your staff is superb through every aspect of the visit and Dr. Neil is fantastic. Thank you for getting me back to my daily Mom grind so quickly.

Book Your Free Consultation Online

Family Chiropractic Care In Whitehall Borough
Call Us Today! (412) 885-3533

Whitehall Borough Chiropractors Proudly Serving South Hills, Baldwin, Castle Shannon, Brentwood and Mt Lebanon