While our foremost passion as a chiropractic practice is to provide healing help to those who are hurting, we also desire to assist those in the community who are hurting due to a lack of resources. That's why in April, South Hills Physical Medicine and Chiropractic held a food drive for the South Hills Interfaith Movement (SHIM). The drive was held to celebrate Dr. Robbins being in practice for 20 years.
For every donation received we gave a raffle ticket to be entered to win a 43″ TV. Our lucky winner is Marie S. We are so grateful to Marie and everyone else who donated food. Your generosity will go a long way toward helping SHIM assist the underserved in the South Hills. We'd like to share a bit more about this wonderful organization.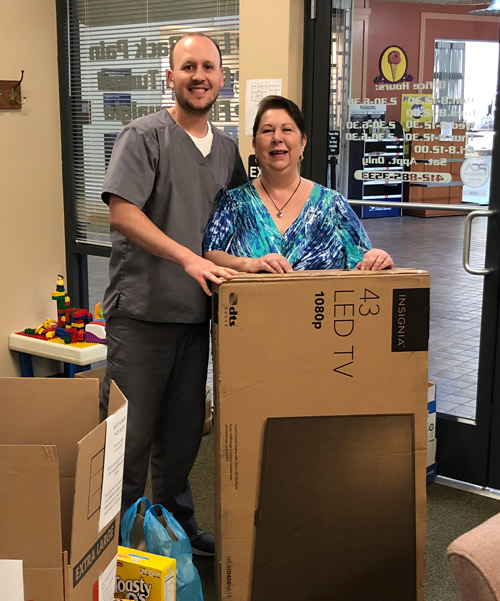 How SHIM Helps the Community
According to SHIM's website, their mission is as follows:
"SHIM mobilizes community resources and implements sustainable programs that compassionately help our neighbors meet basic needs, achieve self-sufficiency, and build community."
So families in our local communities can put nutritious meals on the tables, SHIM features fully stocked food pantries. You can find these at SHIM Center at Bethel Park, SHIM Family Center, and Baldwin United Presbyterian Church.
If you or someone you love could benefit from SHIM's services, please go to their website or call 412-854-9120.